Positive impact on people and planet
Stedin wants to be at the forefront in terms of sustainable business operation. We are working to achieve climate-neutral business operation by 2030. We concentrate our efforts on those areas in which our impact is greatest: CO2 and particulate matter emissions, use of raw materials and the restoration of biodiversity. At the same time, we also have a social responsibility in the supply chain, prompting us to engage suppliers in dialogue on the same topics. This results in sustainable and socially responsible products and services.
It became clear in 2021 that sustainability is no longer seen as aspirational but as essential and a 'licence to operate'. In its 'Fit for 55 programme', for example, the European Commission tightened its climate targets, adopting a revised 55% net emissions reduction target by 2030. At the same time, we can observe that municipalities and other stakeholders attach increasing value to sustainability. We are being asked more and more questions about the sustainable integration of infrastructure in an increasingly congested urban environment. Alongside this, it is clear that climate change adaptation policy is essential to help us prepare for the effects of climate change.
We concentrate our efforts on those areas in which our impact is greatest: CO2 and particulate matter emissions, use of raw materials and an inclusive society. The steps that Stedin Group is taking as part of its commitment to working for equal opportunities and long-term employability for all are described in the section on Good employment practice.
One Planet KPIs

2019

2020

2021

Target for 2022

Reduction of CO₂ emissions, excluding gas network losses

Target

-9%

-18%

-27%*

-36%

Achieved

-13%

-28%

-45%**

Greening of electricity grid losses, Stedin Group in %

Target

100%

100%

100%

100%

Achieved

100%

100%

100%

Circularity of purchasing of primary assets, Stedin

Target

n/a

n/a

38%

40%

Achieved

n/a

34%

38%
* Reduction target compared to base year 2018
* As of 2020, grid managers are responsible for making gas network losses more sustainable. Including gas network losses, there is a decrease of 6% compared to 2020.
Review of One Planet strategy
In 2021, we began a review of our One Planet strategy, by developing policy for improving the sustainability of our current and new infrastructure and by launching a training programme aimed at enabling colleagues to engage with sustainability and undertake related initiatives themselves. The strategy review is focused on achieving a tightening up of our targets, the addition of biodiversity as a strategic theme and positioning climate change adaptation as a topic within the organisation. Climate change mitigation has been an established part of our sustainability strategy for some time.
An analysis carried out in 2019 established that, in the light of our measures, we are operating within the limits of the Paris Agreement. In 2022, Stedin will commence a process that takes its lead from the Science Based Targets Initiative. External verification of our sustainability strategy by the Science Based Targets Initiative means that it will be officially established that Stedin is operating in line with the 'max. 1.5 degrees warming scenario' under the Paris Agreement.

CO2 and particulate matter emissions
Stedin uses the Greenhouse Gas Protocol (GHG) to monitor its CO2 emissions. The GHG Protocol classifies a company's GHG emissions into three 'scopes'. The following table contains a description of these scopes, including the topics we take account of in our internal business operations (insofar as we can exercise control over them). Alongside CO2, emissions of other greenhouse gases also occur. These emissions are translated to CO2 equivalents to produce a comprehensive overview of Stedin Group's emissions. In this Report, the term 'CO2 emissions' is used to denote these combined greenhouse gases.
CO2 emissions, including greening

Results in tonnes CO2eq

Scope according to GHG protocol

Explanatory information

What this includes for Stedin

2019

2020

2021

Scope 1: Direct emissions

Greenhouse (GHG) emissions that occur from owned sources or from leased assets and result directly from our core activities

Gas consumption of our buildings

454

453

385

Our mobility (lease & company cars)

8,856

7,311

6,283

Network losses from our gas network*

105,008

106,842

101,552

SF6 addition

187

137

452

Scope 2: Indirect emissions

All greenhouse gas (GHG) emissions from the generation of electricity consumed by Stedin but generated by third parties.

Electricity and heat consumption of our buildings

238

1,168

1,201

Electricity grid losses

179

566

641

Scope 3: Value chain emissions

Greenhouse gas (GHG) emissions due to energy and fuel consumption from transportation, extraction, energy production (excluding energy generation) and third-party emissions that result from our core activities.

Commuting

2,760

1,407

211

Business trips

659

411

387

Purchasing

191,396

170,129

153,374

Waste (emissions avoided by recycling)

-831

-855

-906
* excl. administrative gas network losses of Enduris
Explanatory information per scope
Scope 1: as of 2020, the grid managers are responsible for purchasing gas for gas network losses as well as for the reporting of the related CO2 emissions. In 2021, we began the development of a purchasing strategy aimed at effectively compensating the gas network losses. This will be implemented further in 2022. We reduce gas network losses by replacing, throughout our entire network, brittle pipelines with plastic pipelines from which there is less gas leakage during transport. The CO2 emissions from Stedin Group's business operations, excluding network losses, decreased by 45% compared to the base year 2018. That is well within the targets set. The largest decrease occurred in relation to mobility, mainly as result of the coronavirus crisis. While most switchgear is leak-proof, a limited quantity of SF6 is emitted each year. In 2021, Stedin added 18 kg of SF6 (2020: 6 kg); also in 2021, DNWG added 1.0 kg (2020: 1.0 kg) of SF6.
Scope 2: each year, Stedin Group compensates almost 100% of the CO2 emissions arising from the electricity that we purchase for our electricity grid losses. Since 2021, we have purchased 40% of the electricity for our network losses through a power purchase agreement; this involves us purchasing green electricity directly from a sustainable source such as a wind or solar farm. 60% of the network losses are compensated by purchasing Guarantees of Origin (GoO). In the longer term, Stedin Group wishes to increase the percentage of network losses it compensates through power purchase agreements. This figure should be over 80% by around 2030.
| | Energy transmission | Grid losses | Percentage |
| --- | --- | --- | --- |
| 2016 | 20,270 GWh | 1,020 GWh | 5.03% |
| 2017 | 21,893 GWh | 1,052 GWh | 4.80% |
| 2018 | 21,330 GWh | 1,076 GWh | 5.05% |
| 2019 | 21,100 GWh | 1,069 GWh | 5.06% |
| 2020 | 20,171 GWh | 953 GWh | 4.50% |
| 2021 | 20,529 GWh | 931 GWh | 4.14% |
Scope 3: we are committed to reducing emissions from network components wherever possible. You can read more about commuting, business trips and public transport use under the heading 'Reduction of CO2 and particulate matter emissions via our mobility'. The KPI for circular purchasing is based on the raw materials passport, which we request as part of our purchasing processes.
Under 'Additional information', you can find an overview of Stedin Group's CO2 emissions classified by the various scopes.

Reduction of CO2 and particulate matter emissions via our mobility
At Stedin Group, mobility is jointly comprised of car use, commuting and business travel. We have a phased approach to making our mobility more sustainable based on the three As of Avoiding, Adjusting and Augmenting the sustainability of what remains. Our results in 2021 are as follows:
With 569 electric cars, this part of our vehicle fleet is largely electrified. Full electrification is in sight. It is our policy when the timing is natural, on the expiry of a lease contract, to replace petrol or diesel-driven cars with electric vehicles.
We received a first proposal for company vans that suits our needs. In 2021, we operated 42 medium-sized electric company vans. The range of these vehicles is adequate.
We now have more than 300 charging points at our Stedin locations. We have installed a 150 kV fast charger at two locations for our company transport, with a third soon to be added.
We foresee that electrification of the entire fleet will present a major challenge. A further impetus is needed to ensure the availability of vehicles, subsidy options and charging infrastructure if the ambitions under the Climate Agreement for Zero-Emission urban logistics are to be facilitated.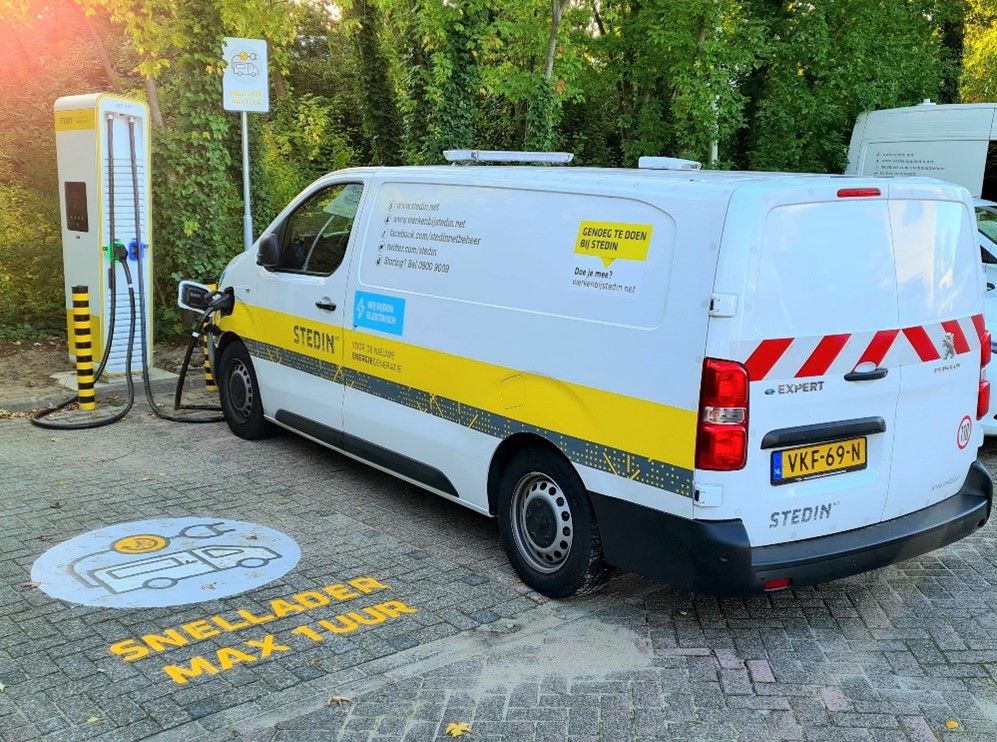 Yellow registration plates by fuel type
| Number of yellow registration plates by fuel type | Petrol | Diesel | LPG | Hybrid | EV |
| --- | --- | --- | --- | --- | --- |
| 2017 | 58 | 244 | 1 | 512 | 38 |
| 2018 | 34 | 171 | 0 | 480 | 123 |
| 2019 | 26 | 115 | 1 | 417 | 273 |
| 2020 | 21 | 60 | 0 | 249 | 485 |
| 2021 | 19 | 26 | 0 | 181 | 569 |
Commercially registered vehicles by fuel type
| Number of commercially registered vehicles by fuel type | Petrol | Diesel | LPG | Hybrid | EV |
| --- | --- | --- | --- | --- | --- |
| 2017 | 0 | 1,480 | 12 | 1 | 22 |
| 2018 | 37 | 1,484 | 9 | 0 | 22 |
| 2019 | 0 | 1,464 | 9 | 1 | 22 |
| 2020 | 0 | 1,315 | 0 | 23 | 18 |
| 2021 | 0 | 1,221 | 0 | 43 | 42 |
Litres of fuel used and kWh consumption
We have seen a decrease in the use of fossil fuels and an increase in electric charging. In 2021, we used 442,764 litres less fossil fuels (petrol, diesel, LPG) for our commercial and lease vehicles than in 2020 (a reduction of 16%). Electric charging of our commercial and lease vehicles increased by 1,201,020 kWh (65%) compared to the previous year.
Employees who have a free season ticket for public transport can travel by public transport for business as well as private purposes. In 2021 as well, few employees used public transport in connection with the COVID-19 pandemic. We are also encouraging other sustainable alternatives at the same time. The tendering procedure for lease bicycles was concluded at the end of 2021. Under the new scheme, Stedin employees can opt for a lease bicycle from early 2022.
Stedin Group participates in the Anders Reizen Coalitie (Travelling Differently Coalition). In this Coalition, Stedin leads the task force examining ways to make fleet operations of company vans more sustainable. Stedin is also a participant in the Covenant ZECL (Zero Emission City Logistics) of the Municipality of Rotterdam, aimed at contributing to a sustainable, accessible and energy-efficient city.
Stedin takes a conscious approach to its real estate. This means that we implement sustainability measures when undertaking renovation, during use as well as in relation to mobility. We green the CO2 emissions from our buildings that we are unable to avoid or reduce by entering into green energy contracts with our suppliers. The Stedin@Work (see 'Professionally competent employees') work concept will furthermore result in lower accommodation and mobility costs in the longer term.
Renovation of Anthony Fokkerstraat
The renovation of our Goes location was undertaken in 2021. The aim was to create a sustainable building and to close two other locations. The new work environment in Goes was designed with flexibility and efficiency in mind, enabling us to add more workspaces. By applying various approaches, most notably the Stedin@Work work concept, in which working from home is an integral element, we have been able to achieve real estate consolidation. All parts of the building are now gas free, a heat pump has been installed, energy-efficient lighting and climate control systems have been fitted and 678 solar panels with a generating capacity of 190 kWp have been installed on various roofs. In addition, 57 charge points have been created for electrification of company and other transport.

Raw materials and environment
We aim to maximise circularity both from a sustainability perspective and in the interest of prolonging the useful life of our assets. We purchase products with as much recycled raw material content as possible, challenge suppliers to deliver products that facilitate maximum recycling after the useful life has expired and work with our waste processors to ensure the highest-grade recycling of products.
KPI for circular purchasing and the raw materials passport
Since 2021, our policy of requesting raw materials passports has provided us with good insight into the circular performance of our primary assets. We do this by analysing the data from the raw materials passports and by working with suppliers to determine a strategy for increasing the circularity of the assets. This can be achieved in two ways. On the one hand, by ensuring that more recycled raw materials are used in the production process. On the other hand, by ensuring a higher recyclable percentage for assets (high-grade recycling) after their useful life has expired. An example of this is a current tendering procedure for joints that we use in the replacement of grey cast iron pipes. In this context, we are aiming for continuous recyclability at a rate of 50-80%. Fewer raw materials are needed, since we purchase fewer products and only buy the replacement parts. Technicians can perform reconditioning work on site or centrally in the workshop. This not only leads to fewer transport movements, it also generates financial savings of approximately 50%.
Based on our current understanding, we appear to be on course to achieve a circularity percentage of 38%. This would mean we achieved our 2021 target of 38%. Our target for 2022 is 40%.
Status of request for raw materials passport based on total ordered weight (in kg x 1,000).
Assessing the environmental impact of purchased assets
To deepen our understanding of the impact of our purchased assets and allow us to assess the sustainability performance of suppliers, we teamed up with the other grid managers and CE Delft to develop an Asset Tool. This tool makes it possible to calculate the environmental impact for transformers, cables, pipelines, conductors, stations and switchgear. It also enables us to include the outcomes as an integral factor in sustainability weighting in the tendering process. The tool provides us with better insight into our impact in the chain and enables us to advance improvements in cooperation with suppliers and the sector.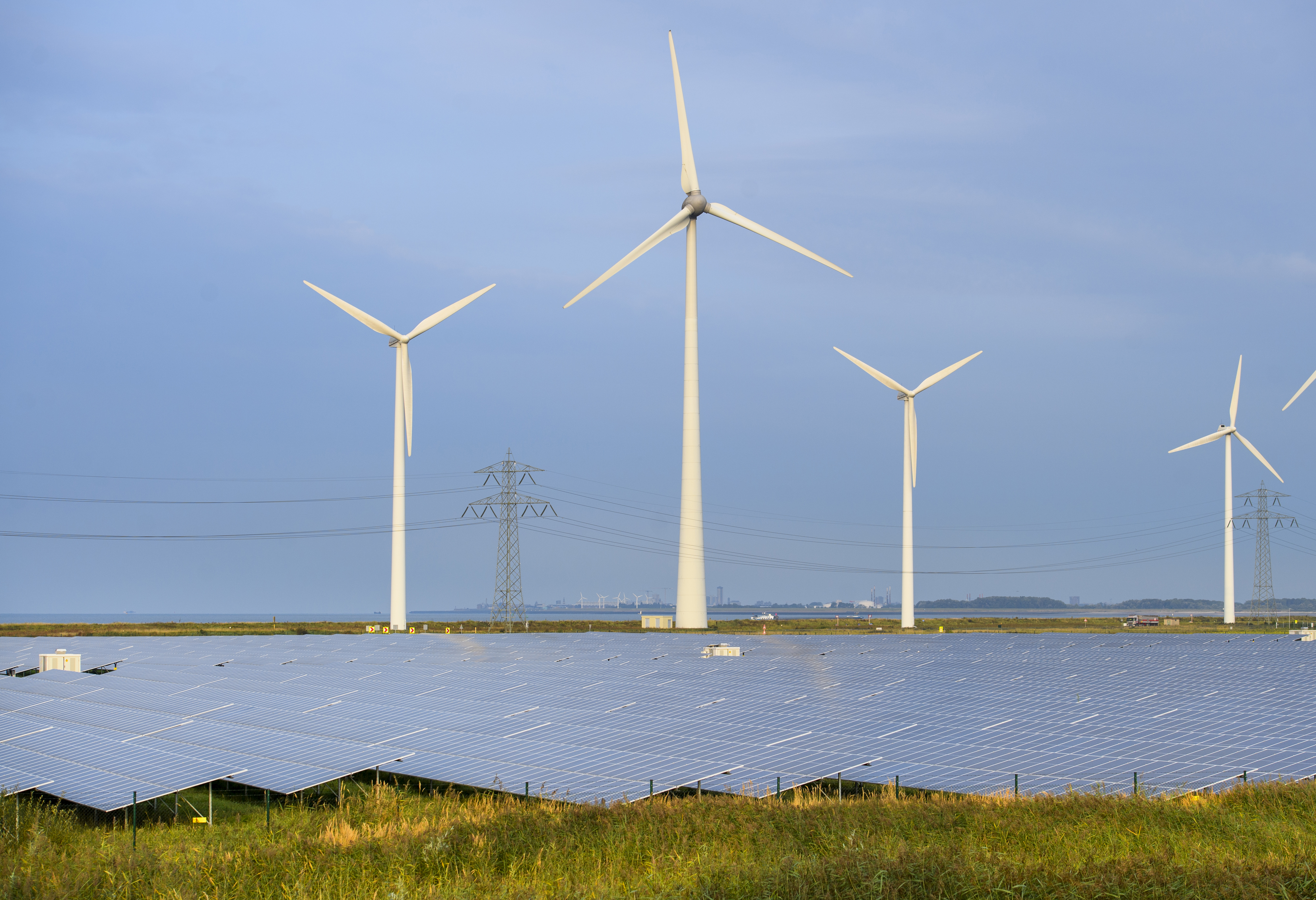 Investments linked to green bonds
We issued a green bond for the first time in 2019. The €500 million raised is linked to investments made by Stedin Group in sustainable projects, such as connecting new wind turbines and solar farms to Stedin's electricity grid and energy-efficient housing. Some examples of the investments we have undertaken with the green bond are highlighted below. You can read more about the green bond we issued in 2021 in the section on 'Financial, economic performance'.
Redeployment of scarce raw materials
Used assets are re-used in our grid. This helps to reduce CO² emissions and maximise use of scarce raw materials. An example is used transformers, which we check, test and then re-use. In 2021, we did this with 74 transformers (9% of the total number of transformers that were deployed). We also established a database for available parts and raw materials. Multiple grid operators use this database to share information, via Ksandr, for example, on cables, transformers and other materials to facilitate their possible re-use. Using this approach, Enexis recently provided Stedin with a number of MX time switches, for example. These parts are no longer available and can now be used by Stedin in the event of a failure affecting this type of MS switch.
The useful life of many assets in the grid can be extended by replacing parts. However, the assets may be so old that replacement parts are no longer available. When replacing a smart meter, for example, the old plastic protective covers of the home connection box may break off. As these protective covers are no longer available, the entire box would need replacing. We have now developed 3D-printed protective covers, thereby extending the useful life of the home connection box. The benefits of this are reduced inconvenience for our customers, greater efficiency and a need for fewer raw materials thanks to an extended useful life of our assets.
Phasing out 'SF6' in switchgear
SF6 is used as an insulation medium in our high and medium-voltage switchgear. We want to limit the use of these types of gas as far as possible by preventing new switchgear from containing SF6. The new standard medium-voltage switchgear that is installed for grid expansion or replacement is SF6 free. In 2021, SF6-free switchgear was installed 166 times (25.5% of the total switchgear). We are also running a tender for larger switchgear, where SF6-free switchgear is conferred an economic advantage due to a lower CO2 footprint rating and the possibility for subsidy. In addition, we are working to minimise transport leakage from current switch gear containing SF6. We are carrying out studies in this regard in our Innovation Lab.
The table below shows the amount of waste from Stedin Group in 2021. The rise in the percentage of non-recyclable materials relates to asbestos. In 2020 as well as in 2021, Stedin had to undertake remediation work in Utrecht involving the removal from the ground and disposal of asbestos. In Zeeland as well, 567,420 kg of asbestos was removed. This asbestos originated mostly from the replacement of water pipes and represents 85.5% of the proportion of asbestos in non-recycled waste. Cast iron makes up a large share of the materials that are recycled, due to the accelerated replacement of our cast-iron gas pipelines. We disposed of 2,861,725 kg of cast iron in 2021. For this specific flow, that is 300 tonnes more than in 2020: 2,561,060 kg. Cast iron is always recycled.
| Waste (in kg) | 2017* | 2018* | 2019* | 2020* | 2021** |
| --- | --- | --- | --- | --- | --- |
| Total volume of waste | 6,400,386 | 8,588,912 | 9,576,136 | 8,885,295 | 11,424,839 |
| Total volume of waste recycled | 5,831,399 | 7,755,969 | 8,623,144 | 7,710,474 | 8,636,798 |
| Total volume of waste not recycled | 568,987 | 832,943 | 952,992 | 1,174,821 | 2,788,041 |
| % of waste not recycled | 9% | 10% | 10% | 13% | 24% |
| Total asbestos | 487,730 | 771,930 | 718,550 | 756,645 | 1,894,085 |
| % of asbestos in waste not recycled | 86% | 93% | 75% | 64% | 68% |
* Stedin Netbeheer, ** Stedin Netbeheer + Enduris
In 2021, we began developing biodiversity as a new theme in our sustainability strategy. Stedin's infrastructure offers a unique opportunity to strengthen biodiversity. Green roofs, sinus management (a meandering mowing method) and full ecological integration of stations in the surroundings, for example, are potential sources of biodiversity gains. In addition to a direct contribution to biodiversity and improved sustainability, local authorities and residents are increasingly demanding that our stations be sustainably integrated in the landscape. We also see that natural solutions contribute to climate change adaptation or can mitigate technical challenges, such as heat stress. We focus on integrating measures aimed at promoting biodiversity in new construction, existing infrastructure and maintenance/management.
Collaboration: Groene Netten Coalition
Groene Netten is a collaboration between MVO Nederland and the eight largest infrastructure operators in the Netherlands: Alliander, Enexis, Gasunie, KPN, ProRail, Rijkswaterstaat, TenneT and Stedin. Together, we are targeting action to improve sustainability faster, smarter and at lower societal cost. Stedin is working with the coalition, among other things, on the creation of an ecological main infrastructure: an area of 922 square kilometres in urban and outlying areas that is being jointly developed to contribute to biodiversity restoration. That is larger than the Veluwe national park and a quarter of the land-based nature in the Netherlands. Naturalis Biodiversity Center and Dutch Butterfly Conservation are helping Groene Netten to analyse where the greatest impact can be achieved. The analysis is being carried out on the basis of an opportunity map, which is being developed with Naturalis. In 2022, Groene Netten aims to take concrete steps towards setting up and carrying out projects at promising locations.
The Board of Management (BoM) is responsible for the ambitions and objectives that have been formulated for Stedin Group. The BoM has approved the ambitions that provide direction for Stedin Group's sustainability policy towards becoming a climate-neutral organisation by 2030. The strategy and results were also discussed with the Supervisory Board in 2021.
Results on the KPIs are reported to the BoM and the directors of the business units concerned every quarter. A quarterly analysis is also carried out of strategic risks and opportunities, which includes the topic of sustainability. The strategic risks 'Excessive environmental impact' and 'Environmental pollution' are included in the table 'Strategic risks and opportunities'.
Risks for Stedin associated with climate change and adaptation
Heavy rainfall, flooding and prolonged drought are increasingly common and, additionally, are becoming more extreme. Stedin therefore not only embraces measures to prevent climate change, it is also taking steps to prepare for the risks of a changing climate. We refer to this as climate change adaptation. Four risks apply in particular to Stedin: sea-level rise, extreme rainfall, drought and extreme temperatures and flooding.
To acquire and share knowledge, Stedin has joined the 'Climate Adaptation Coalition', a coalition of parties who are exploring appropriate ways of identifying the risks of climate change and how we can best prepare ourselves for those risks. In the context of Netbeheer Nederland, Stedin is also paying attention to sharing knowledge and experience, and we have analysed vulnerabilities in components in relation to climate change. Together with municipal authorities and security regions, Stedin has also carried out area studies to share and identify the impact of excess water and flooding on a region-by-region basis. These studies show that the electricity grid is more robust than was previously thought. Undertaking investments to proactively mitigate the risk is therefore not cost effective. In 2022, we will continue to pursue innovations in building and construction, and we will develop policy aimed at modifying existing infrastructure where necessary and developing new construction or expansion of stations in such a way that risks are minimised. An example is green roofs on our stations.
Stedin has developed climate sensors to give better insight into temperature and humidity, among other things, in electricity stations. This information is used to implement measures aimed at improving climate conditions, thereby optimising station performance and preserving useful life. The methods currently employed fail to provide that insight at a sufficient level or on time. In 2022, we will begin rolling out the climate sensors in stations where that is necessary.
Green roof for biodiversity and heat stress prevention
In October 2021, a green Sedum roof measuring 750 m2 was installed on our high-voltage station at Benjamin Franklinstraat in Rotterdam. This is an example of how we are deploying our own infrastructure in the interest of biodiversity restoration. This fits in with our strategy for improving sustainability. Aside from this, the green roof also has many additional benefits. This particular station is affected by heat issues, with excessively high temperatures in the summer. Our systems therefore have difficulty releasing the heat. A green roof helps resolve the heat problem, with a temperature up to 5 degrees lower than roofs without green matting.
Measuring biodiversity
To increase the biodiversity impact, Stedin had the roof sown with a mix of native herbs and flowers of 19 different species. This attracts numerous insects. Furthermore, the station is located in an area with an increased risk of flooding. A green roof retains water for longer periods, thereby decreasing the risk. These positive effects prompted the Municipality of Rotterdam to award Stedin a grant for the green roof.

Impact in the purchasing chain
Stedin Group bears its social responsibility for sustainability in the supply chain by actively focusing on the ambitions regarding CO2emissions, raw materials, particulate matter emissions, biodiversity and social working conditions. Stedin bears this responsibility both in its tendering procedures and in its collaboration with suppliers. With a purchasing volume of €864 million in 2021, Stedin Group has a significant impact. Almost the entire purchasing volume (99%) is realised with suppliers having an office located in the Netherlands. The remaining portion of the purchasing volume, which is very small, comes from 16 European countries, Turkey and the United States.
Supply chain responsibility
All our contracted suppliers are expected to sign the Stedin Supplier Code of Conduct. By signing this Code of Conduct, they commit to the basic principles concerning human rights, working conditions, fair and honest business practices (including the prevention of fraud and corruption), safety and integrity and the goals formulated in our One Planet strategy. Our Code of Conduct is based on the OECD (Organisation for Economic Cooperation and Development) guidelines, the Universal Declaration of Human Rights and the labour standards and working conditions drawn up by the International Labour Organization (ILO). The Code of Conduct has been signed covering 63% of our expenditure. Signing the Code of Conduct is a mandatory element in all new tendering procedures. That way, the percentage automatically increases each year at the natural moments of contact renewal.
Self-assessments were sent to 12 strategic equipment suppliers in relation to corporate social responsibility. If it is clear from the data and self-assessments that a follow-through in greater depth is required for the replies given, it may be necessary to perform an external audit at a supplier. The purpose of the audit is to formulate joint improvement plans to reduce the greatest risks concerning sustainability, human rights and integrity.
An online audit was carried out in the case of three suppliers; shortly after the COVID-19 measures were relaxed, the first physical audit was performed on site. As the outcomes of the audits were positive, no additional action was necessary.
We take responsibility for our supply chain emissions, such as the emissions that occur at our contractors or that arise
during the production and transport of the components and assets that we purchase. We take the CO2 footprint as well as other issues such as material usage and social working conditions into consideration in our purchasing processes. They form the basis for selecting suppliers.
Governance in relation to the supply chain
In July 2021, the Board of Management approved the ambitions outlined in the Supply Chain strategic plan. This plan sets out the development of the Supply Chain organisation in the area of supply chain management.
Supply Chain has its own reporting line to the Board of Management. The reporting is based on a KPI dashboard and monthly MT reviews related to insight and performance. Details and deviations are reported to the Board of Management through the Monthly Business Review (BUR). In the BUR, we report on topics such as stock positions, availability indications from the market and price fluctuations.
Our risk management and the potential sustainability risks in our supply chain were redefined and reintegrated in the new Supply Chain organisation at the end of 2021. This ensures that structural covering is now also extended to monitoring and the reporting of deviations from monitoring.
Discussions are held at regular intervals with stakeholders from the various categories (Contracting & services, Materials & smart meters, ICT and Services), so that findings can be immediately shared and converted into recovery procedures.
An example of this policy can be seen in the Materials Task Force: a collaboration between the business, the logistics department and vendor management, aimed at minimising shortages in supplies of materials during the COVID pandemic. Prices and availability of materials are interconnected and therefore need to be managed together. The work undertaken by the Materials Task Force proved our ability to fully mitigate this risk. We aim to maximise added value for all purchased materials and services by taking quality, price, sustainability, safety and innovation as the basis for awarding tenders, contracting and conducting assessments. These criteria are included in the KPIs that are assessed on the basis of data, assessments and self-assessments as well as audits.