Stedin Group's activities
Stedin Group focuses on all activities relating to constructing, managing and maintaining energy grids. We also facilitate the energy market.
Until 31 December 2021, Stedin and Enduris were two independent grid managers within Stedin Group. They operated alongside five other regional grid managers in a regulated market. Each regional grid manager is a monopolist in its area of operations. Regulation means that the work performed by grid managers is provided for in Dutch law and that the rates that they may charge for this work are set by the Netherlands Authority for Consumers and Markets (ACM). The regulation model encourages grid managers to achieve maximum performance in terms of efficiency and quality by using a benchmark comparison.
As a grid manager, Stedin ensures a safe, reliable and affordable energy supply for its more than 2 million customers. Stedin has 4,331 employees. This figure includes 3,651 internal employees (male: 3,003; female: 648) and 680 external employees (male: 532; female: 148).
Within DNWG Group (Enduris and DNWG Infra), grid manager Enduris manages the energy network for around 200,000 households and businesses in the province of Zeeland. DNWG Group has a total workforce of 635. This figure includes 537 internal employees (male: 451; female: 86) and 98 external employees (male: 70; female 28).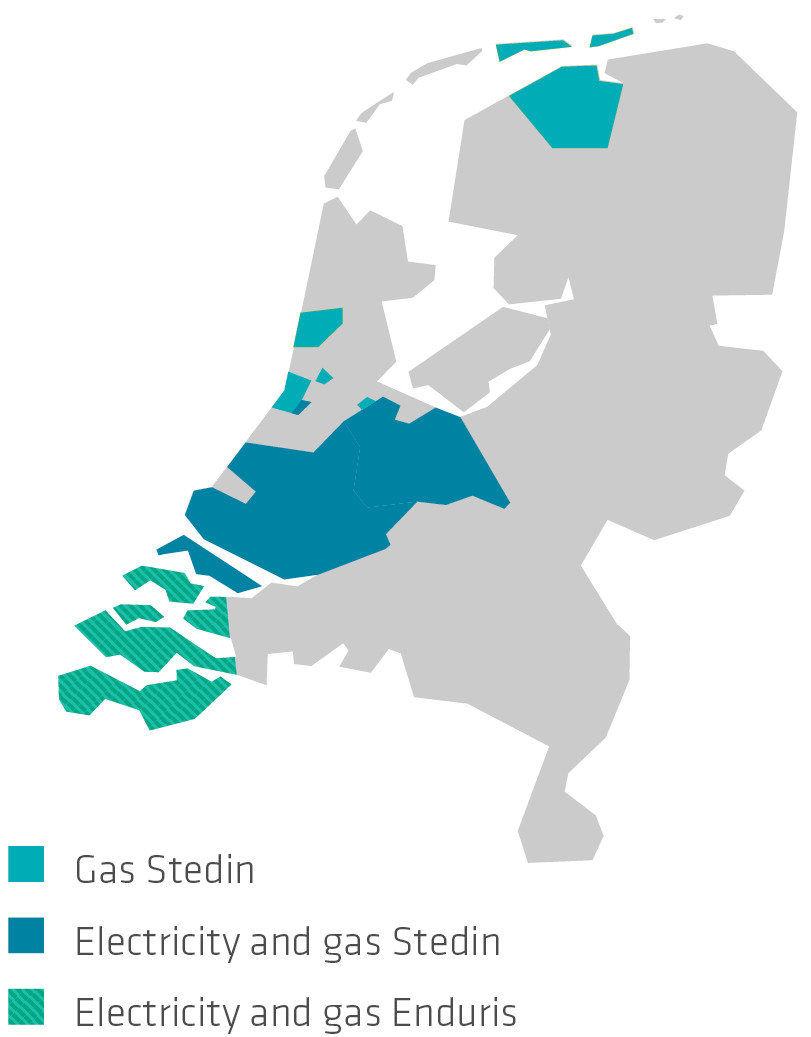 Facilitating the energy market
Facilitating the free energy market is part of our societal role as a grid manager and independent partner of market parties (energy suppliers). Among other things, this fact means that our electricity and gas grids should be accessible under identical terms and conditions to all energy suppliers. Consumers are free in their choice of energy supplier. The resulting competition guarantees very competitive energy prices, which benefits consumers.
Grid managers are responsible for administering the energy system. This means that we provide insight to the market parties into customers' consumption and return of energy. Customers benefit from the ease of switching to a different energy supplier, the insight into their energy consumption and how easy it is to return energy to the grid. Our metering data enable energy suppliers to send correct invoices to their customers.
A non-regulated activity will only be included in our portfolio if it demonstrably contributes towards efficient grid management, if it helps to fill a gap in the market and if Stedin Group is uniquely positioned to perform it. In addition, a minimum financial return requirement applies to investments in non-regulated activities, and any partners in those activities must be sufficiently reliable and ethical and have a good name and creditworthiness.
The non-regulated activities account for 3.3% of revenue (2020: 3.6%; 2019: 5.1%).
By law, regulated activities for gas and electricity may not be carried out under the same banner as other energy infrastructures (such as steam, biogas, CO2 and heat). These activities were consequently transferred in 2019 to a separate brand within Stedin Group: NetVerder. NetVerder promotes the energy transition by supporting the development, construction and maintenance of energy infrastructures for heat, steam and biogas. NetVerder also focuses on the independent transport and distribution of other new energy sources or carriers. NetVerder is an independent part of Stedin Group. NetVerder has seven employees. This figure includes six internal employees (male: 6; female: 0), and one external employee (male: 1; female: 0).
Within DNWG Group, DNWG Infra is the service provider that builds and maintains the electricity and gas grids in the Province of Zeeland, on behalf of Enduris. In addition, DNWG Infra maintains and manages the grids entrusted to it by other grid managers (e.g. Evides Waterbedrijf, Stedin and TenneT) and by industrial customers. The commercial metering service TUMS was carved out as per 1 August and sold to Censo on 10 February 2022. Censo is the new owner of TUMS Meetdiensten with effect from 1 January 2022.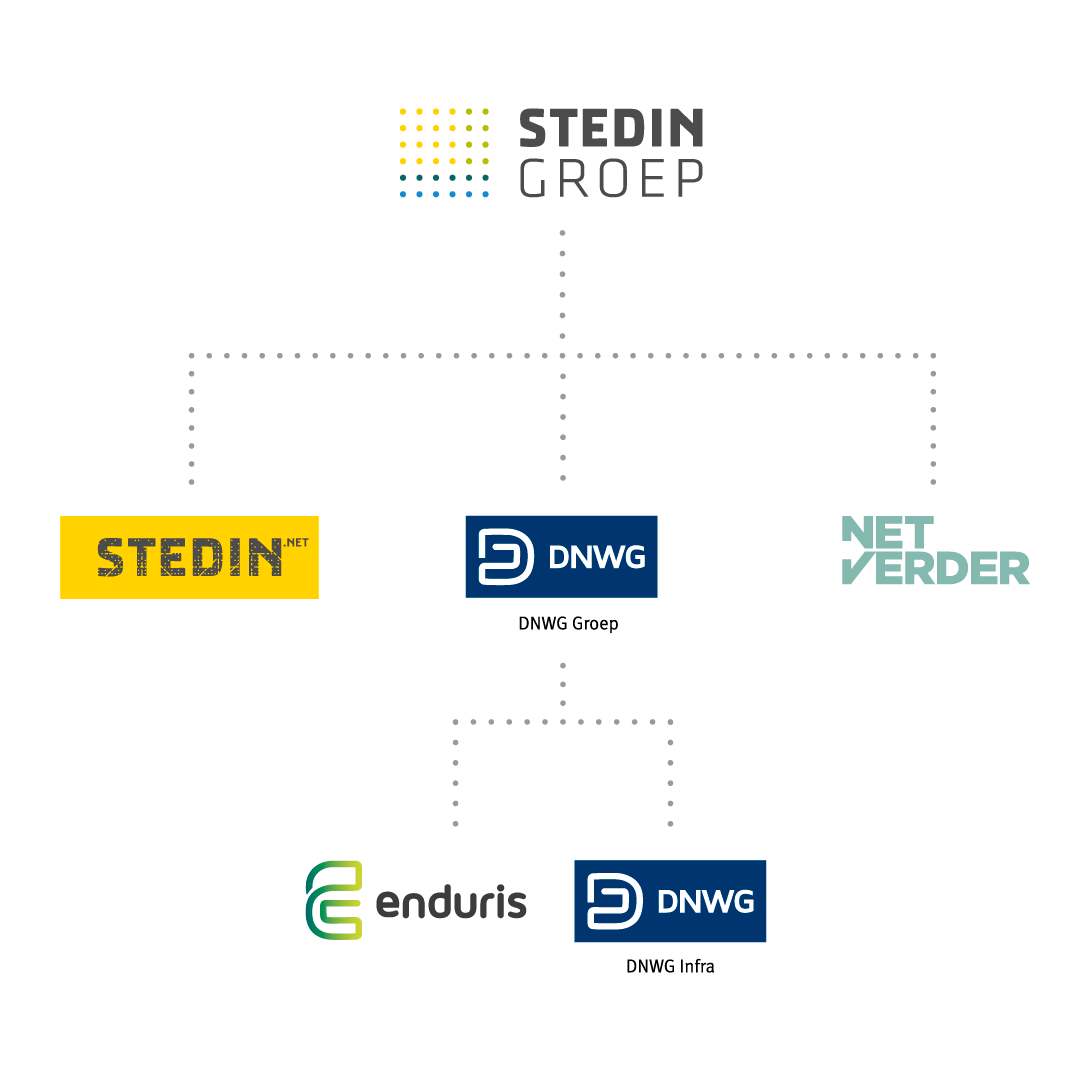 We form joint ventures with other parties for specific activities.
Utility Connect B.V. is a joint venture with network group Alliander. The company operates its own wireless telecommunications network, which is used to read out measurement data provided by smart meters and to communicate with smart grid applications. This network allows us to supply metering data to market parties and shorten or prevent energy supply disruptions
TensZ B.V. is the joint organisation of TenneT and Stedin for managing and maintaining high-voltage grids. Each party holds a 50% share.
TeslaN B.V. is the joint service provider for the management and maintenance of the high-voltage grids of TenneT and Enduris. Each party holds a 50% share.
As part of the integration of Stedin Group and DNWG Group, TensZ and TeslaN merged on 1 January 2022 into a single organisation that will continue under the name TensZ.
Stichting Zeeuwse Publieke Belangen (Zeeland Public Interest Foundation)
Stichting Zeeuwse Publieke Belangen is a unique alliance between the province of Zeeland, the municipalities of Zeeland and Stedin Group. The foundation was established to safeguard the arrangements concerning the sale of DNWG to Stedin Group in areas including employment, energy supply and the energy transition. The foundation makes a budget available to promote the energy transition in Zeeland. An overview of the initiatives can be found on the foundation's website.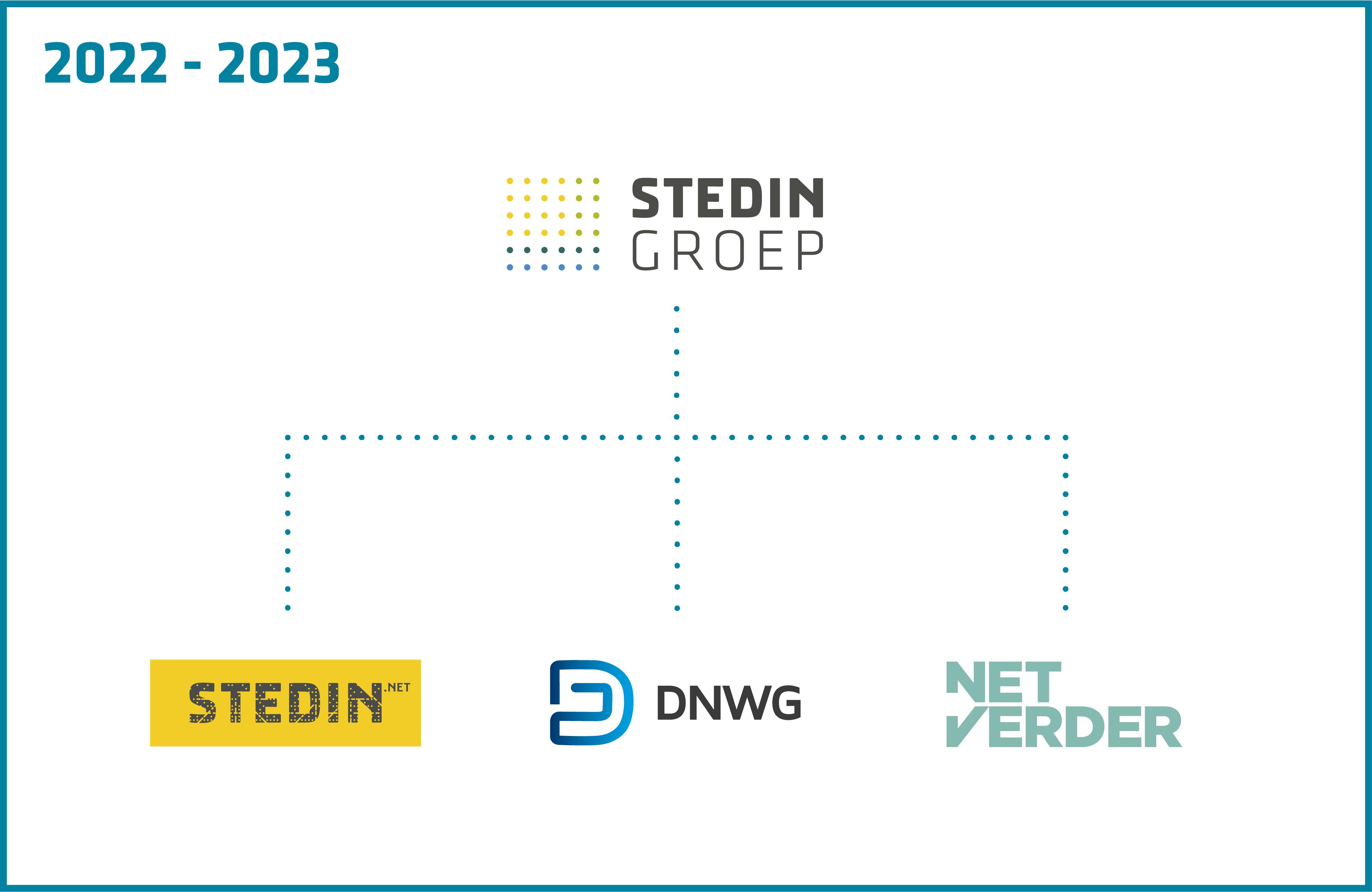 Stedin and DNWG became a single organisation in 2022 – Stronger Together
Stedin and DNWG merged on 1 January 2022. From that date, we have jointly carried out staff services and grid management activities under a single name: Stedin. The name 'Enduris' ceased to exist from that date. The operational organisation will continue to be organised on a regional basis for the time being.
Developments in 2021
In the first half of the year, it was determined what positions the employees of DNWG will get with effect from 1 January 2022. For the time being, staff members of the operational departments will continue to carry out their activities in the province of Zeeland under the name DNWG. They will be integrated in due course. DNWG's non-regulated activities were further phased out or sold this year. For example, the transformers and commercial activities of Malfunctions & Maintenance were sold to Joulz Infradiensten B.V. Two follow-up surveys among employees of DNWG this year showed that there continues to be sufficient support for the integration. It is natural for employees to want to know where they stand. On 1 November, they received a letter describing the effects of the transfer to Stedin for their position, salary scale and personal terms and conditions of employment.
Synergy
The integration should generate financial gains in excess of €100 million over a period of eight to ten years. From 2018 to year-end 2021, they totalled €40 million. We will achieve the greatest synergy gains if we are actually a single organisation. We achieve these gains by:
reducing operational expenses by modifying working methods and processes, for example by further developing multidisciplinary ways of working;
carrying out all purchasing processes and tendering procedures jointly;
Modifying maintenance and replacement intervals, based on knowledge and data of both companies;
jointly using tax and financial schemes at group level;
carrying out the same support activities for Stedin and DNWG together.
Completion of the integration
The integration of support departments and grid management from DNWG into Stedin has been largely completed as of 1 January 2022. The DNWG employees were transferred to Stedin Group with all their rights and responsibilities on 1 January 2022. To facilitate this process, a staff transfer protocol was drawn up that ensured equivalent and uniform employment terms and conditions for all current and future Stedin employees from that date.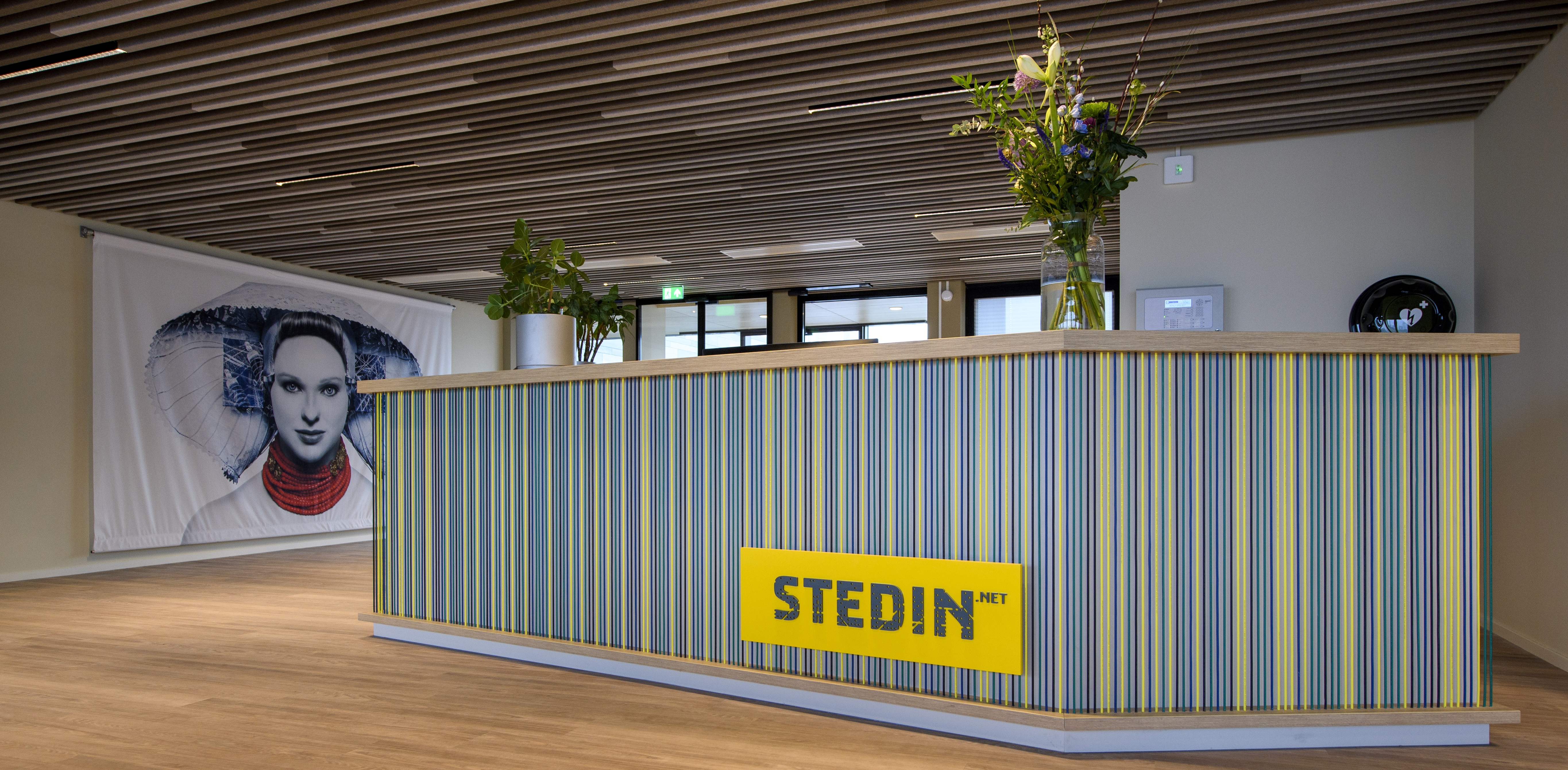 The office of DNWG in Goes has been renovated, made more sustainable and completed in accordance with the Stedin corporate identity. This is an attractive work location within the integrated business.