Working on the energy infrastructure involves risks, which is why safety remains a priority and why Stedin Group invests in knowledge, professional competence, safety measures and a good safety culture. At the same time, data security, privacy and cybersecurity also assume increasing importance in this period of digitalisation. We are taking effective steps to address these safety and security aspects, and with them the continuity of the energy supply. This way, we ensure the safety of our customers, employees, contractors and hired staff.
A key element in carrying out our work safely is consideration for everyone involved: our own employees and externally hired staff, employees of supply chain partners and subcontractors as well as customers and the environment. Close cooperation with all the parties involved is essential to achieving a safe result.
Compliance with safety regulations and guidelines requires constant attention. We therefore make sure that our employees receive safety training, which they repeat at regular intervals. Our employees have the correct personal protective equipment and high-quality tools, which we check and approve during the annual equipment audit.
The entire Stedin Netbeheer organisation obtained certification for level 4 of the Safety Culture Ladder via an external audit. This standard aims to improve safety awareness (attitude, behaviour and culture) and to make it a constant focus of attention. A few years ago, in order to raise this safety awareness on a lasting basis, we began employing an HRO (High Reliability Organisation) programme. HRO forms the basis for a sustainable safety culture in the short and long term. The programme also contributes to reliability and predictability in the chain processes ('do things right the first time'). DNWG Operations obtained certification for level 3 of the Safety Culture Ladder in 2021. The aim is for the organisation in Zeeland to progress to level 4 in 2022.
HRO has five features: I think ahead – I am not afraid to ask and keep asking questions – I am prepared for the unexpected – I focus on solutions – I am open to the expertise of colleagues. In 2021, we worked further on the HRO phase: 'Embedding Routines'. The associated activities are aimed at maintaining awareness by focusing on continuous and individual learning.
Alongside awareness, attitude and conduct are also important for safety and quality. We paid ample attention to these matters in 2021 as well, by providing our employees with regular training. In April, we held our biannual 'Gas days', which are intended for all gas fitters. During the programme, we addressed everyday events and making use of our gas grid for gases other than natural gas. In 2022, we will organise the 'E-days' for technicians who work with electricity.
Safety in the supply chain
Our supply chain partners also play an important role with regard to safety. We aim to create broad support for certification according to the Safety Culture Ladder among them as well.
Attitude and conduct linked to quality and safety are key priorities. In 2021, we carried out 2,638 workplace audits. We make our reports available in a secure portal so that our contractors can directly access our findings. During our quarterly visits to them to discuss the results, we examine their management systems and instructions framework, assessed in accordance with the BEI and VIAG. We examine and discuss incidents and workplace accidents. Safety issues and policy are on the agenda of an annual executive review.
Each year, we present the Stedin Safety Award to the supply chain partner with the best safety and quality performance in the previous year. In May, the Stedin Safety Award was presented to the Van Gelder Group.
Golden Safety Shoes presentation
Each year, we present the Stedin Golden Safety Shoes as a sign of appreciation for colleagues who have demonstrated a commitment to improving physical or social safety in the workplace over a long period and/or in an exceptional manner. They set an example to the organisation. The award is a sign of appreciation for the person or persons in question as well as a means of promoting commitment to physical and social safety and raising safety awareness.
This year, the Golden (Social) Safety Shoe was presented to Mariëlle Vellinga and Theo Veenbrink, Arif Baran, Djilali Mohammed, Jonathan Geldof, René de Bonte and Bert Schouten.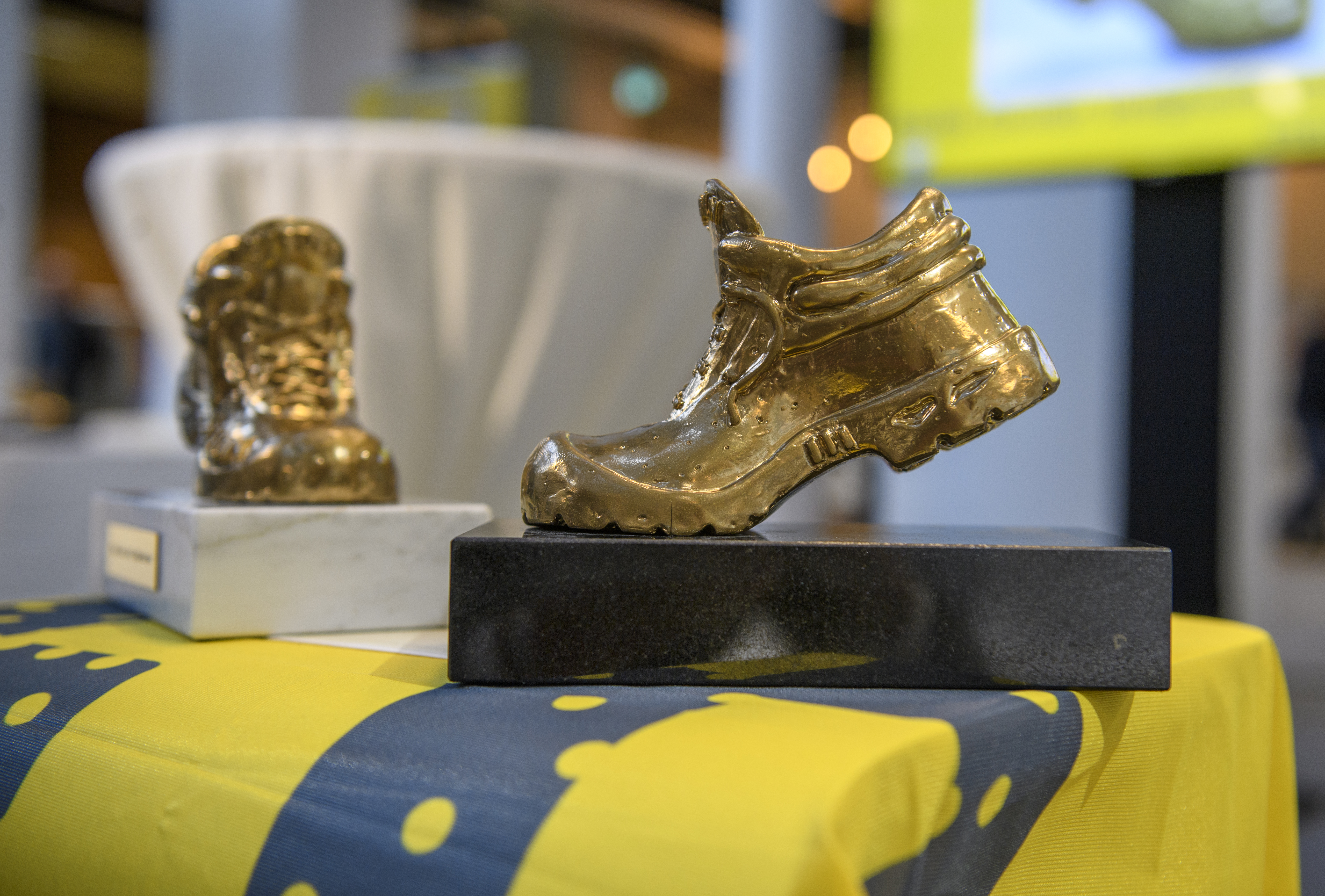 Preventing workplace accidents
We are committed to preventing workplace accidents. We place great importance on a safe and healthy working environment and minimising risks. We define workplace or occupational accidents as fatal accidents, lost-time injuries or accidents that require alternative work or medical treatment. In 2021, we achieved our target of remaining below 34 accidents. We eventually recorded 28 accidents.
| Type of accidents for Stedin Group | 2017 | 2018 | 2019 | 2020 | 2021 |
| --- | --- | --- | --- | --- | --- |
| Number of fatal accidents | 0 | 0 | 0 | 0 | 0 |
| Number of lost-time injuries (lost time > 1 day, LTI) | 37 | 24 | 17 | 3 | 4 |
| Number of accidents entailing alternative work (RWC) | 5 | 8 | 11 | 15 | 17 |
| Number of accidents without lost time requiring medical treatment (MTC) | 7 | 8 | 11 | 8 | 7 |
| Total | 49 | 40 | 39 | 26 | 28 |
We monitor our safety performance on the basis of the following ratios:
RIF = Recordable Incident Frequency: number of fatal accidents and lost-time workplace incidents, incidents entailing alternative work or incidents requiring medical treatment per 200,000 hours worked.
LTIR = Lost Time Injury Rate: number of lost-time workplace incidents per million hours worked.
The recorded RIF was 0.76, while the target was a maximum of 0.90.
The recorded LTIR was 0.54, while the target was a maximum of 1.95.
The coronavirus crisis had a positive effect on the safety ratios at the beginning of 2021 in particular, with lower traffic volume and temporarily reduced customer contacts being contributory factors in that regard.
Looking at the causes of workplace accidents, we see that most are directly related to work, such as contact with electrical voltage or cuts and burns. Many others are attributable to knocks, falls and stumbling.
The significant level of traffic movements accompanying the roll-out of smart meters initially resulted in a large number of traffic accidents, often with no more than bodywork damage, but sometimes also causing personal injury. In 2020, we launched a programme of training with the aim of increasing traffic awareness. This was continued in 2021. This training was a factor, together with the reduced level of traffic movements due to the coronavirus, that led to a substantially reduced number of traffic-related accidents.
| Cause of accidents | 2017 | 2018 | 2019 | 2020 | 2021 |
| --- | --- | --- | --- | --- | --- |
| At work | 23 | 20 | 17 | 14 | 15 |
| Falling, stumbling, slipping | 16 | 9 | 11 | 11 | 10 |
| Participation in traffic | 10 | 11 | 11 | 1 | 3 |
| Total number of accidents | 49 | 40 | 39 | 26 | 28 |
Causes of lost-time workplace incidents
| Cause of LTIR | 2017 | 2018 | 2019 | 2020 | 2021 |
| --- | --- | --- | --- | --- | --- |
| At work | 1.71 | 1.25 | 0.77 | 0.13 | 0.27 |
| Falling, stumbling, slipping | 1.98 | 1.00 | 0.52 | 0.27 | 0.135 |
| Participation in traffic | 1.19 | 0.75 | 0.90 | 0.00 | 0.135 |
| Total LTIR | 4.88 | 3.00 | 2.19 | 0.40 | 0.54 |
Number of lost-time workplace incidents (including contractors)
The chart shows the number of lost-time workplace incidents for Stedin Group and its contractors. The last five years show a downward trend. We believe that this trend can also be attributed to our efforts of raising safety awareness, in our organisation as well as among our supply chain partners. We also took steps to provide temporary alternative work as a means of reducing absenteeism as a result of accidents and to keep employees involved in work.
Number of workplace incidents without lost time (including contractors)
The following chart shows the number of workplace incidents without lost time for Stedin Group and its contractors.
Total number of workplace incidents (including contractors)
The following chart shows the total number of workplace incidents as the sum of the number of lost-time workplace incidents and incidents without lost time for Stedin Group as well as its contractors.
The chart shows the accident/incident ratio for Stedin Group, which is the ratio between the number of lost-time injuries and the number of workplace incidents.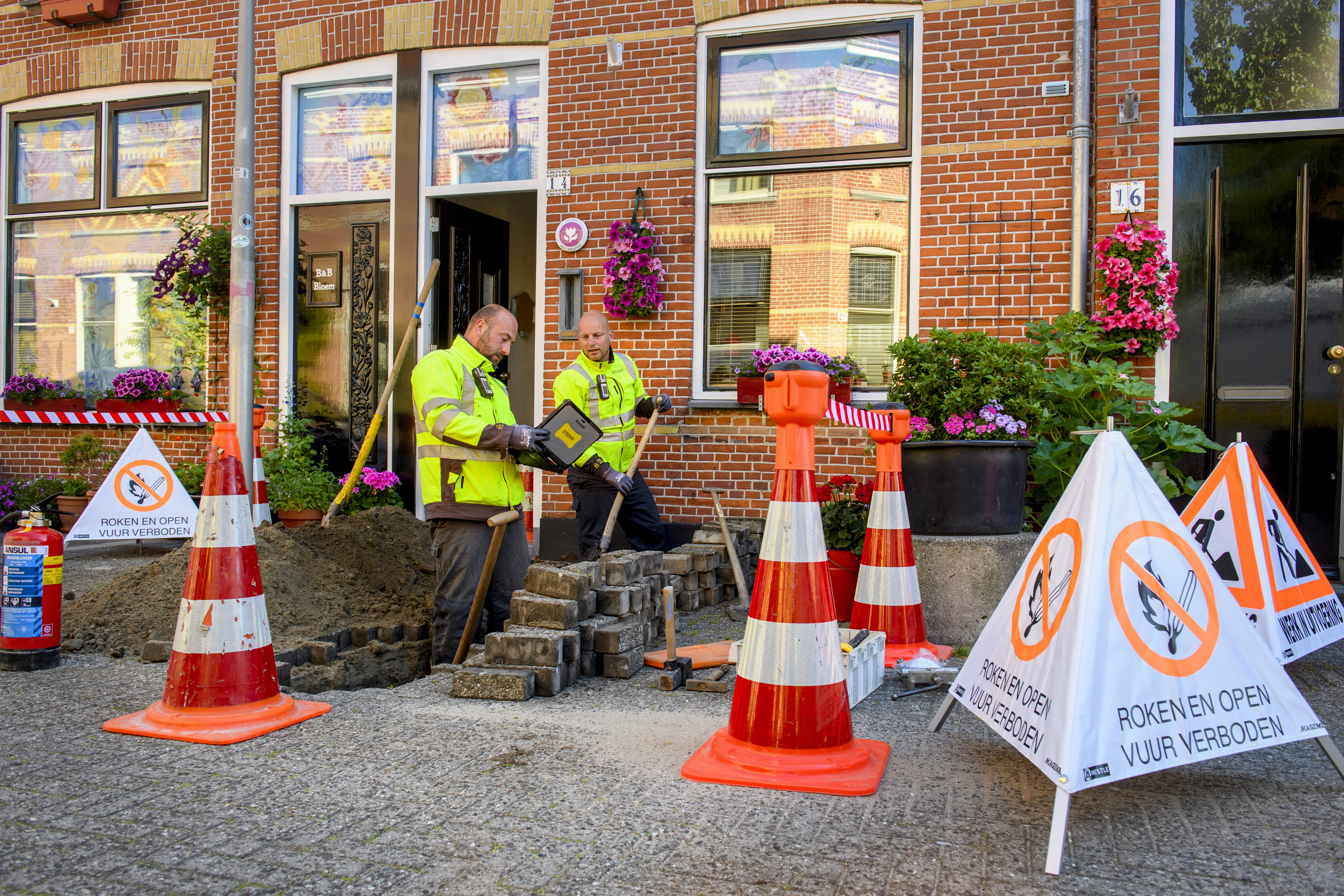 Complying with the full range of environmental requirements and applying the correct environmental regulations in the various situations is not easy. In 2020, we began the development of a database that acts as a roadmap for the executing departments. This was continued in 2021 by making experiences and references available to give them a practical tool to help them in recognising, preventing and correcting environmental issues.
We also respond to legislation and regulations on hazardous substances or pollutants, such as asbestos, for example, which present risks to health in addition to the environment.
Crisis management organisation
The manner in which we dealt with the coronavirus crisis has proved that the approach we took with the updated Crisis Management Plan (CMP) is the correct one. In 2021, Stedin was certified for use of the National Crisis Management System (Landelijk Crisis Management Systeem, LCMS), which facilitates the central exchange of up-to-date information by relevant parties during a crisis (grid-centric working concept). The LCMS has since been designated a National Crisis Management Facility by the Ministry of Justice and Security.
We are further improving our crisis management organisation by providing continual training to information coordinators and crisis managers. We also update our knowledge and experience by taking part in exercises, including at the national level, with other crisis management organisations.
Stedin and the coronavirus crisis in 2021
Whereas 2020 was a year of discovering how to deal with the pandemic, 2021 was more 'business as usual'. Colleagues followed guidance to work from home to a tee. For many of them, homeworking proved a boon. This resulted, among other things, in Stedin@Work, our new work concept (see the section on 'Professionally competent employees').
Alongside this, we were most affected by the night-time curfew in 2021. It came unexpectedly and required us to make multiple arrangements, mainly involving paperwork. In the weekend before the curfew took effect, almost 3,000 employees were issued with the necessary papers, often by courier delivery, to enable them to continue working after the curfew started.
We always comply with government policy in our decision-making.
Alternative energy sources, such as wind and solar, biogas and hydrogen, are becoming increasingly important. From the point of view of safety, this gives rise to new opportunities and challenges. We are increasing the sustainability of our energy systems and developing new techniques, which involve the use of test locations. Whereas detailed safety guidelines and regulations exist for working with natural gas, they are currently absent for hydrogen. We are developing guidelines and regulations for hydrogen in consultation with Netbeheer Nederland.
In 2021, we again faced a series of burglaries, many involving copper theft, and thefts from business vehicles and premises. This prompted us to take extensive preventive measures to secure our critical infrastructure, which also includes working closely with the police and security firms.
Fraud and increasing aggression, threats and violence toward our employees required considerable attention. We always report incidents of this nature to the police. Our staff are trained to de-escalate confrontations with aggressive customers.
Sadly, we experience gas and electricity theft for criminal purposes or personal monetary gain on a daily basis. We work closely with the other grid managers in the sector to adopt a uniform approach to tackling theft and fraud and to recover any losses we sustain. It is important to coordinate our actions in this regard with the police, municipalities and the Public Prosecution Service.
We often encounter energy theft in relation to hemp farms. Criminals make huge earnings from illegal hemp cultivation. As the equipment they use consumes large amounts of electricity, the criminals tap energy by bypassing the meter. In 2021, 11 house fires in Stedin's and Enduris' coverage area were caused by hemp farms illegally tapping energy.
It is estimated that 17% of Stedin's total network losses are caused by fraud. That is approximately 161 GWh of electricity. Based on the 2021 kWh price, that amounts to an estimated loss of €6.2 million per year.
A total of 399 hemp farms were discovered in Stedin's coverage area in 2021. We dealt with 978 cases of fraud in total in the same year. Alongside hemp farms, these cases cover meter fraud as well as illegal connections and reinforcements, for instance.
Large-scale digitalisation of the energy grid is accompanied by increased cybersecurity risks, which can have an adverse impact on the supply security of the energy grid. We see around us that new or current vulnerabilities in the field of cybersecurity are already being exploited by malicious parties, occasionally leading to significant loss or damage. Stedin has been designated a 'vital service provider' pursuant to the Network and Information Systems Security Act (Wet beveiliging netwerk en informatiesystemen), under the supervision of Radiocommunications Agency Netherlands. In 2021, there were no incidents that were covered by the reporting obligation of this legislation.
Cybersecurity is essential for the continuity of our activities. We are working on integral security that connects the related areas of expertise. Stedin applies internationally recognised standards in order to reduce its vulnerabilities to outside threats, with a focus on prevention, timely detection and the resulting actions. As Stedin bases its cybersecurity on the tried and tested Deming cycle for continuous quality improvement, we arrange to be regularly tested by external specialised parties in relation to the ISO 27001 standard. Certification was already in place for the design, building and management of infrastructures for electricity grid managers. The scope of this certification was further extended in 2021 to include HR and procurement-related support activities.
Stedin is not alone in reducing cybersecurity risks. Within Netbeheer Nederland, we make a constructive contribution to the formulation of a European Network Code. In addition, we work closely with other organisations in the private and public sector in the field of cybersecurity. At the European level, we do this through the European Network for Cyber Security (ENCS) with other grid managers in other countries. At the national level, we work with the Cyber Security Council, the Vital Infrastructure Committee of VNO/NCW, industry association Netbeheer Nederland and the National Cyber Security Centre, among others. We share information with these organisations on threats and measures, and we also collaborate with them to develop standards and provide mutual support in case of an actual threat. Exercises, such as the largest Dutch cyber-crisis exercise ISIDOOR, are a key element in this regard.
In 2021, Stedin Group demonstrably complied with the standards and guidelines in the field of safety and security, quality management, asset management, environmental management and working conditions.
| Stedin Group certification | | |
| --- | --- | --- |
| Stedin Netbeheer | Enduris | DNWG Infra |
| ISO 9001 | ISO 9001 | ISO 9001 |
| NTA 8120 | NTA 8120 | ISO 14001 |
| ISO 55001 | ISO 55001 | CKB |
| VCA** | ISO 27001 | VCA** |
| Safety Culture Ladder, level 4 | | Safety Culture Ladder, level 3 |
| ISO 27001, High voltage | | ISO 27001, TUMS |