Safety, reliability and sustainability are of paramount importance for us, as our activities to construct and maintain the energy grids involve certain risks. A key element in carrying out our work safely is consideration for everyone involved: our own employees and externally hired staff, employees of supply chain partners, contractors and subcontractors and, of course, the customers and the environment. Close cooperation across the entire chain is essential to achieving a safe result. Therefore, crucial craftsmanship also means safe, sustainable and reliable working practices.
Sound craftsmanship, based on the right training and experience, is a precondition for carrying out our work. Compliance with safety regulations and guidelines requires constant attention. We therefore make sure that our employees receive safety training, which they repeat at regular intervals. Our employees have the correct personal protective equipment and high-quality tools, which are also checked and approved annually during the equipment audit.
We understand that sound craftsmanship is important not just for safety and quality but also for the right attitude and conduct. We therefore paid ample attention to these matters in 2020, by providing our employees with regular training for the VCA, BEI and VIAG safety programmes. In September and October, we held our biannual 'E-days', which are intended for all electricians. The programme addressed everyday events and safe business operations, looking not just at hard safety rules but also in particular at the 'soft' aspects of safety, focused on human behaviour. In 2021, we will organise the 'G-days' for gas fitters.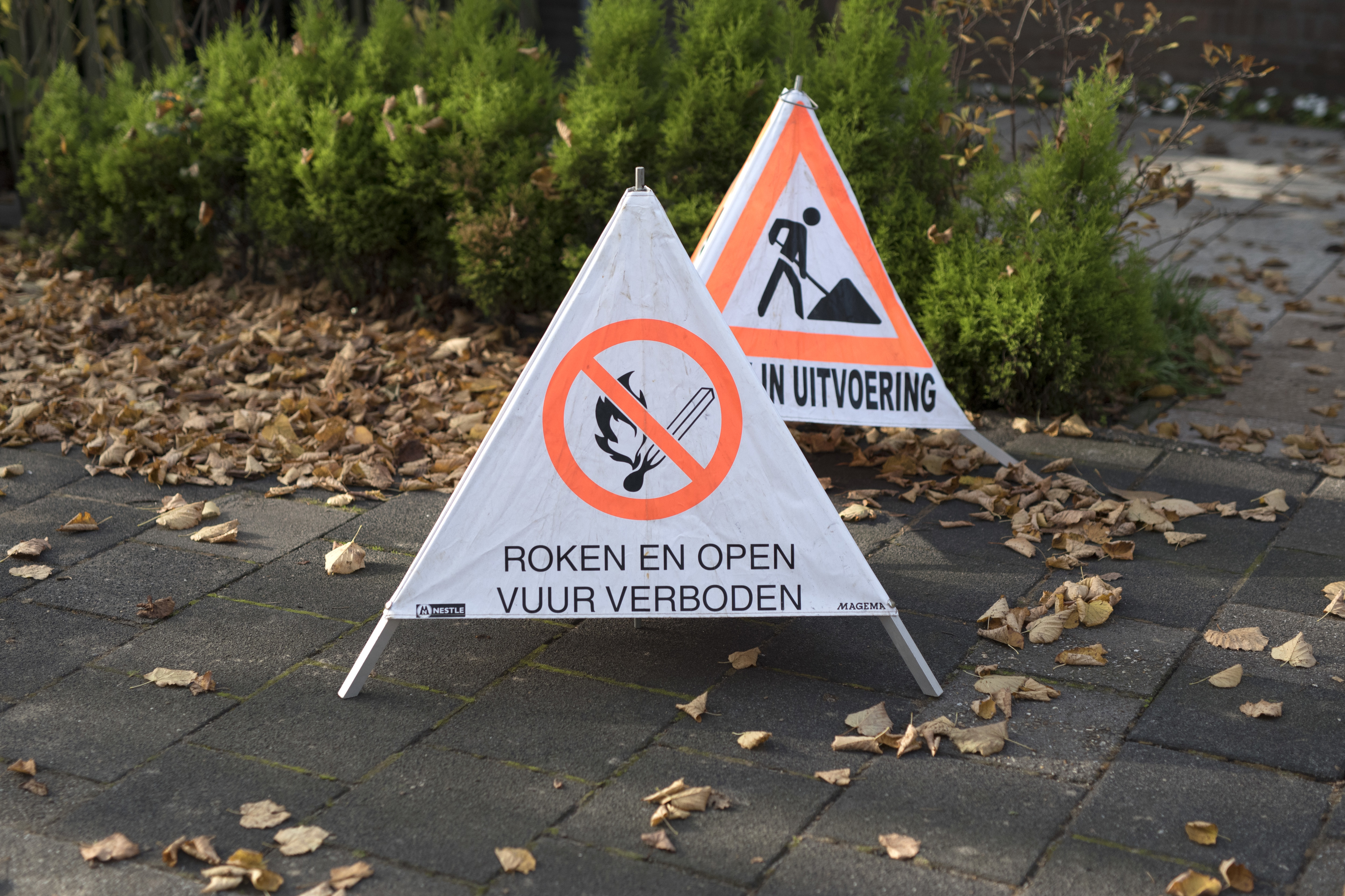 Golden Safety Shoes presentation
The Stedin Golden Safety Shoes are presented each year as a sign of appreciation for people within Stedin Group who have demonstrated safety performance over a long period and/or in an exceptional manner. The way in which they have done so is an example to the organisation. The presentation of this award is a sign of appreciation for the person or persons in question as well as a means of promoting commitment to safety and raising safety awareness.
The Golden Safety Shoes were presented to David Henriquez, Ares Oosthoek, Peter Stam and Richard van Zuijdam.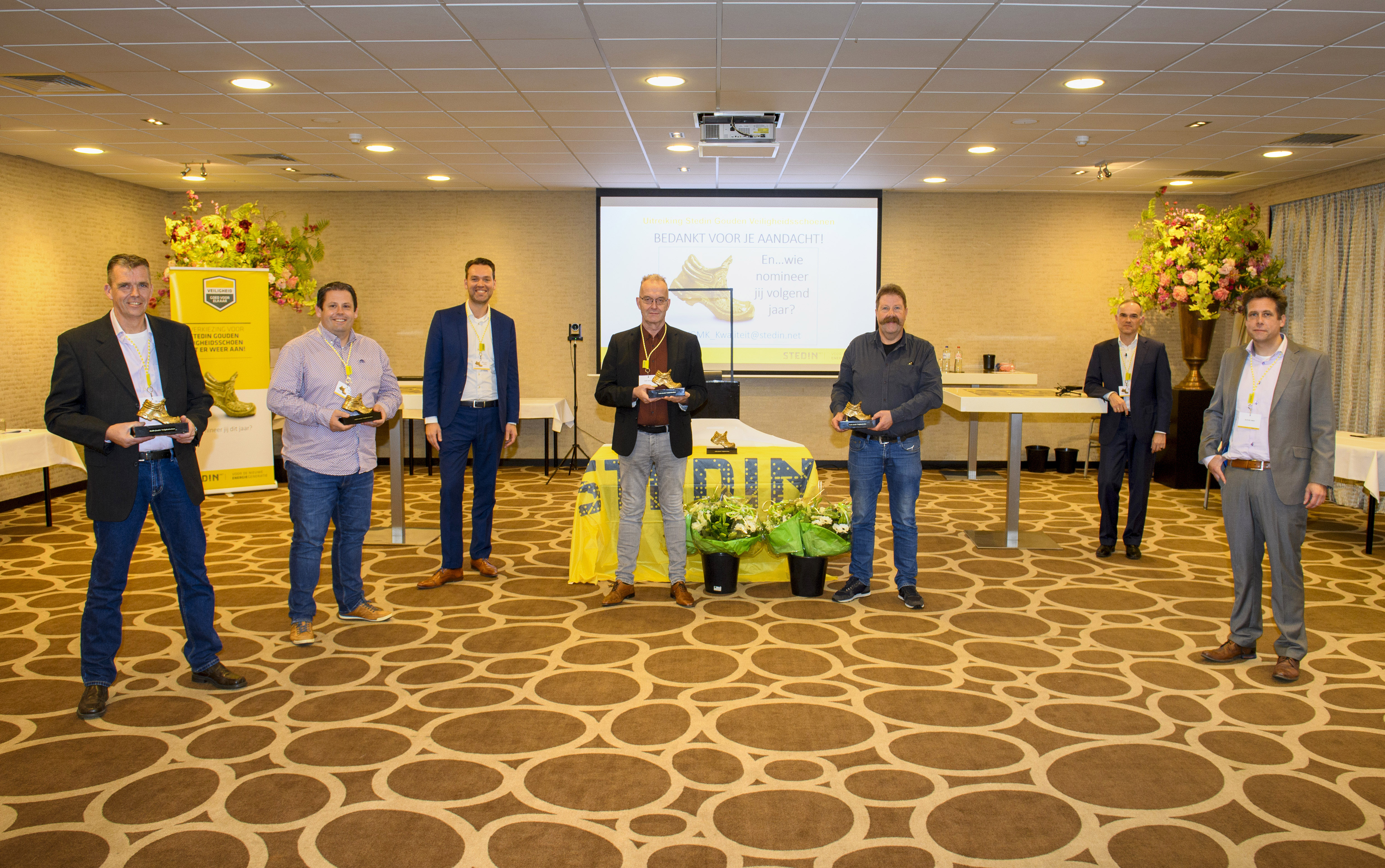 Safety in the supply chain
Our supply chain partners also play an important role with regard to safety. Attitude and conduct linked to quality and safety are key priorities. In 2020, we carried out 2,814 workplace audits. We also make audit visits. We make our reports available in a portal so that our contractors can directly access our findings. During our quarterly visits to contractors to discuss the results, we examine their management systems and instructions framework, assessed in accordance with the BEI and VIAG. We examine and discuss incidents and workplace accidents. Safety issues and policy are on the agenda of an annual executive review as well.
Each year, we present the Stedin Safety Award to the supply chain partner with the best safety and quality performance in the previous year. We presented the Stedin Safety Award on 14 October, in full compliance with COVID-19 restrictions, to BAM Infra Energie & Water West B.V.
Preventing workplace accidents
We do everything we can to prevent workplace accidents and place great importance on a safe and healthy working environment and minimising risks to achieve this. We define workplace or occupational accidents as lost-time incidents, which require alternative work or medical treatment. In 2020, we achieved our target of remaining below 34 accidents. We eventually recorded 26 such accidents.
| Type of accidents for Stedin Group | 2017 | 2018 | 2019 | 2020 |
| --- | --- | --- | --- | --- |
| Number of fatal accidents | 0 | 0 | 0 | 0 |
| Number of lost-time injuries (lost-time > 1 day, LTI) | 37 | 24 | 17 | 3 |
| Number of accidents entailing alternative work (RWC) | 5 | 8 | 11 | 15 |
| Number of accidents without lost time requiring medical treatment (MTC) | 7 | 8 | 11 | 8 |
| Total | 49 | 40 | 39 | 26 |
We monitor our safety performance on the basis of two ratios: RIF and LTIR.
RIF = Recordable Incident Frequency – the number of lost-time workplace incidents, incidents entailing alternative work or incidents requiring medical treatment per 200,000 hours worked;
LTIR = Lost Time Injury Rate – the number of lost-time workplace incidents per million hours worked.
The recorded RIF in mid-2020 was 0.70, while the target was a maximum of 0.90.
The recorded LTIR in mid-2020 was 0.40, while the target was a maximum of 1.95.
The coronavirus crisis has had a slightly positive effect on the safety ratios, with lower traffic volume and temporarily reduced work levels being contributory factors in this regard. Partly in this light, we intend to maintain the targets from 2020 for 2021.
Looking at the causes of the workplace accidents, we see that most are directly related to work, such as contact with electrical voltage or cuts and burns. Many others are attributable to falls and stumbling.
The significant level of traffic movements accompanying the roll-out of smart meters resulted in a large number of traffic accidents, often with no more than bodywork damage, but sometimes also causing personal injury. In early 2020, all the fitters received training with the aim of increasing traffic awareness. This training was a factor, together with the reduced level of traffic movements due to the coronavirus, that led to a substantial reduction in the number of traffic-related accidents.
Lost-time workplace incidents
The following two charts show the causes of lost-time injuries, including their share in the LTIR.
| Cause of accidents | 2017 | 2018 | 2019 | 2020 |
| --- | --- | --- | --- | --- |
| At work | 23 | 20 | 17 | 14 |
| Falling, stumbling, slipping | 16 | 9 | 11 | 11 |
| Participation in traffic | 10 | 11 | 11 | 1 |
| Total number of accidents | 49 | 40 | 39 | 26 |
| Cause of LTIR | 2017 | 2018 | 2019 | 2020 |
| --- | --- | --- | --- | --- |
| At work | 1.71 | 1.25 | 0.77 | 0.13 |
| Falling, stumbling, slipping | 1.98 | 1.00 | 0.52 | 0.27 |
| Participation in traffic | 1.19 | 0.75 | 0.90 | 0.00 |
| Total LTIR | 4.88 | 3.00 | 2.19 | 0.40 |
Lost-time workplace incidents, including contractors
The following chart shows the number of lost-time workplace incidents for Stedin Group and its contractors. The last three years show a downward trend. We believe that this trend can also be attributed to our efforts of raising safety awareness, not just in our organisation but also among our supply chain partners. In addition, we have provided temporary alternative work.
Workplace incidents without lost time
The following chart shows the number of workplace incidents without lost time for Stedin Group and its contractors. The employee in question continues to work and there is no sickness absence.
Total number of workplace incidents
The following chart shows the total number of workplace incidents as the sum of the number of lost-time workplace incidents and incidents without lost time for Stedin Group as well as its contractors.
The following chart shows the accident/incident ratio for Stedin Group, which is the ratio between the number of lost-time injuries and the number of workplace incidents. The last four years show a downward trend.
The entire Stedin Netbeheer organisation obtained certification for level 4 of the Safety Culture Ladder in the third quarter of 2020 via an external audit. This standard assesses safety awareness (attitude, behaviour and culture) and includes a total of five levels. A few years ago, in order to raise this safety awareness on a lasting basis, we began employing a multi-year safety programme HRO (High Reliability Organisation).
HRO has five key features:
I think ahead.
I am not afraid to ask and keep asking questions.
I am prepared for the unexpected.
I focus on solutions.
I am open to the expertise of colleagues.
In 2020, we started with the final phase of HRO: after 'Raising Awareness' and 'Updating Knowledge', we are now focusing on 'Embedding Routines'. The associated activities are aimed at maintaining awareness and further improving mastery of updated knowledge. The focus is on continuous and individual learning.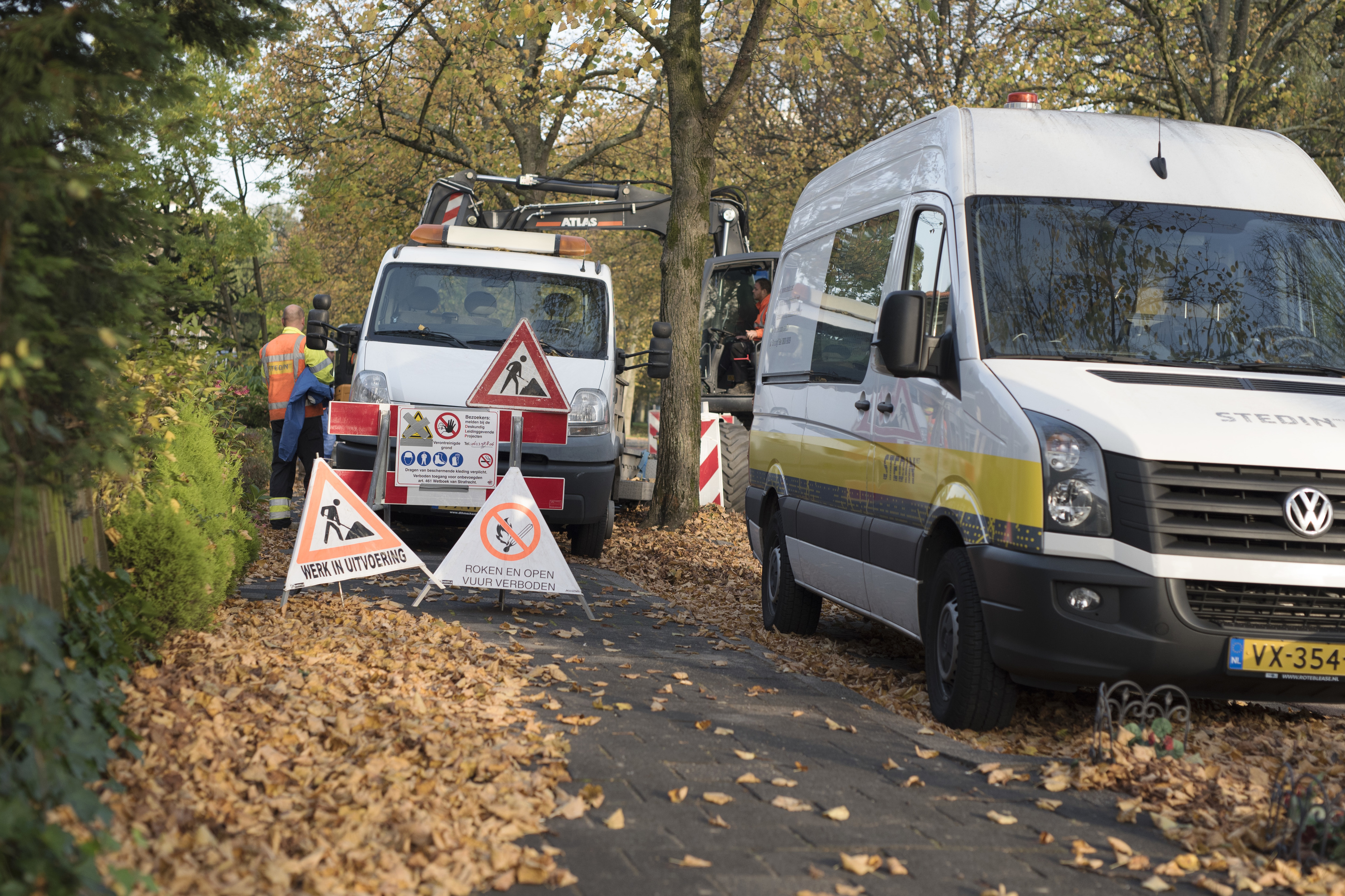 Complying with the full range of environmental requirements and applying the correct environmental regulations in the various situations is not easy. In 2020, we began the development of a database that will act as a roadmap for the executing departments. We intend to use this database for training our employees and giving them a tool to help them in recognising, preventing and correcting environmental issues.
We also respond to legislation and regulations on hazardous substances or pollutants, such as asbestos, for example, which present risks to health in addition to the environment.
Crisis management organisation
In 2020, the Stedin crisis management organisation faced the greatest challenge to date: the coronavirus crisis. This is the ultimate test, a crisis unlike any we have ever known, which affects everyone and is lasting for an exceptionally long time.
This situation has proved that the approach we took with the updated Crisis Management Plan (CMP) is the correct one. We will incorporate the lessons learnt from the coronavirus crisis in an update to the CMP in 2021. Good information management within the crisis management organisation is crucial, especially now.
We are making good progress. Information coordinators have been trained, the information-driven way of working for crisis management – the grid-centric working concept – is being tested and the official GO-live moment is planned for early 2021.
Enhancing the sustainability of energy systems and the increasing impact of alternative energy sources, such as wind as well as solar energy, biogas and hydrogen, are giving rise to new challenges, including from the perspective of safety. This requires the timely creation of safety regulations, for example. These safety regulations are being developed using the experience we gain from carrying out work at our test locations.
In 2020, we faced a series of burglaries and thefts from business vehicles and premises. This prompted us to take extensive preventive measures to secure our assets. Fraud and increasing aggression, threats and violence toward our employees required considerable attention, and we are working closely with the police and security firms to combat them.
Preventing energy theft and reducing network losses are important aspects of ensuring the safety of the grid. Fraud causes 17% of Stedin's total network losses. We are focusing, among other things, on detecting illegal energy consumption through provisional connections or meter manipulation. This can lead to extremely dangerous situations, such as fire or gas explosions. We are working with the police, local authorities, housing associations, the fire service and drinking water companies to identify fraud.
The total number of fraud cases in 2020 was 1,023. In 423 of these cases, hemp cultivation was involved, giving rise to associated losses in 2020 of €2,016,744 (2019: €2,877,874). Total detected network losses were 25,000 MWh for electricity and 800,000 m3 for gas. Although no home visits or planned actions could be undertaken for several months due to the COVID-19 crisis, we nonetheless initiated more than 800 fraud cases.
Together with our data office, we successfully completed a project aimed at pro-actively detecting fraud involving our medium voltage assets. As a result, we are now able to detect fraud at an early stage and on a greater scale.
Large-scale digitalisation of the electricity grid as a result of the energy transition is accompanied by increased cybersecurity risks. Outside our company, new or current vulnerabilities in the field of cybersecurity are already being exploited by malicious parties, occasionally leading to significant loss or damage. This fact is acknowledged in laws and regulations. As a result, Stedin has been designated a 'vital service provider' pursuant to the Network and Information Systems Security Act (Wet beveiliging netwerk en informatiesystemen), under the supervision of Radiocommunications Agency Netherlands.
Cybersecurity is addressed at the strategic as well as the tactical/operational level within Stedin. Stedin applies internationally recognised standards in order to reduce its vulnerabilities to outside threats, with a focus on prevention, timely detection and the resulting actions. As Stedin bases its cybersecurity on the tried and tested Deming cycle for continuous quality improvement, we arrange to be regularly tested by external specialised parties.
In the field of cybersecurity, Stedin works closely with other organisations in the private and public sector, including the Cyber Security Council (of which our CEO Marc van der Linden is a member), the Vital Infrastructure Committee of VNO/NCW, industry association Netbeheer Nederland and the National Cyber Security Centre. We share information with these organisations on threats and measures, and we also collaborate with them to develop standards and provide mutual support in case of an actual threat.
In 2020, Stedin Group demonstrably complied with the standards and guidelines in the field of safety, quality management, asset management, environmental management and working conditions.
| Stedin Group certificates | | |
| --- | --- | --- |
| Stedin Netbeheer | Enduris | DNWG Infra |
| ISO 9001 | ISO 9001 | ISO 9001 |
| NTA 8120 | NTA 8120 | ISO 14001 |
| ISO 55001 | ISO 55001 | CKB |
| VCA** | ISO 27001 | VCA** |
| Veiligheidsladder, trede 4 | | Veiligheidsladder, trede 3, HT |
| ISO 27001, Hoogspanning | | ISO 27001, Multimedia |
| | | ISO 27001, TUMS |

Crucial craftsmanship: Fitsum Fesseha
Fitsum Fesseha is a fitter in the Gouda-Nieuwerkerk-Rotterdam region. What does 'crucial craftsmanship' mean for him? 'Working just makes me very happy'.
Why is your work of vital importance?
'Society simply does not function without power. Lots of things stop working if electricity cuts out. Power is important to everyone. As a child, I used to play with cables all the time, and now I'm replacing meters. I am pleased that my hobby from back then has now become my profession.'
How do you recognise a professional in your field?
'A skilled professional is someone who always comes home safely. They can also come up with creative solutions for problems and continue to develop. It is also very important to communicate clearly with customers. Customers need to understand what is going on and what needs to happen. I have just started my training, and I hope to continue learning and developing as much as I can in the coming years.'
What was working during the lockdown like for you?
'I ended up spending three months at home. My work is always carried out in people's homes, so I couldn't do my job. I didn't like being at home. My work makes me happy, and lazing around is not my thing. Every morning, I would wake up early. I used the opportunity to improve my Dutch language skills. I originally come from Eritrea, and I would really like to learn to speak Dutch perfectly. When we were allowed to go back to work, I felt uneasy. You want to be certain that everything is safe, for customers as well as yourself. There is also less contact, which is a shame – visiting people in their homes is a chance to practice my Dutch proficiency. Now, people stay in their living room, and there is less opportunity for a chat.'
How do you maintain your vitality?
'My work keeps me healthy. It involves plenty of movement, and I enjoy it. In addition, I often go for walks in the evening. A healthy diet also comes natural to me, so that's no problem.'
How does your work preserve your vitality?
'I really enjoy the contact with customers. People notice that I don't come from the Netherlands, and that generates plenty of interesting conversations. I learn a lot from what they explain about their jobs. I also love chatting to my colleagues. Even though we work alone, we still talk to each other regularly and they help me out. I have the job I want, and I look forward to going to work every morning.'